USGA Tournament Management (USGA TM) is a USGA-branded version of the Golf Genius tournament management system that is being rolled out by golf associations to their member clubs over the course of 2017 to replace TPP® and provide additional benefits.  Read more…
---
What can Golf Genius do for you?
Click on one of the categories below to see Golf Genius in action.
Macy's SPACE Memorial Golf Outing
"The players really enjoyed seeing other people's scores while on the course. Golfers at this event are playfully competitive; there's a lot of friendly rivalries. Being able to see other players scores, what holes they were on, and where they stood on the leaderboard greatly enhanced this aspect of the event." Learn More...
Macy's SPACE Memorial Golf Outing
"The players really enjoyed seeing other people's scores while on the course. Golfers at this event are playfully competitive; there's a lot of friendly rivalries. Being able to see other players scores, what holes they were on, and where they stood on the leaderboard greatly enhanced this aspect of the event." Learn More...
MERION GOLF CLUB
Merion Golf Club , Ardmore, PA
"USGA Tournament Management has become the new "norm" at our club. We are confident that the engine behind the software serves as a wonderful platform to help us manage a diverse menu of golf events. It has been great for tracking season-long points with our Men's and Ladies 9 and 18 holers, as well as other Inter-club matches. The software provides speed and sophistication all in one."
EAST LAKE GOLF CLUB EVENTS
East Lake Golf Club , Atlanta, Georgia
"Golf Genius has completely revolutionized the event business here at East Lake Golf Club. Our Membership has absolutely loved the live scoring feature, and their ability to add in corporate logos for sponsor recognition. It's very rare when a product comes along and makes your business better, while also making your work easier. Golf Genius does just that."
CATTAIL CREEK COUNTRY CLUB
Cattail Creek Country Club
Bob Wampler is Head Golf Professional at Cattail Creek Country Club, a private club in Glenwood, Maryland. Cattail does about 20,000 golf rounds a year. With Monday outings in the spring and fall, and 17 member tournaments in the peak season, Golf Genius has proven to be a great investment for Bob and his professional staff. Learn More...
TPC SUMMERLIN
TPC Summerlin
"Players love the live scoring feature. We have since used Golf Genius for every member event we've hosted including Monday outings, small gatherings and small groups. We are going to use it for a league event that starts in a few months. We are excited about Golf Genius."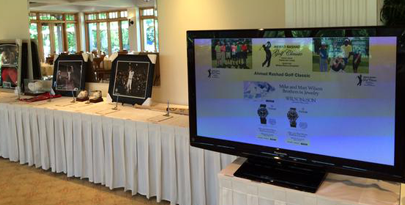 QUAKER RIDGE GOLF CLUB
Quaker Ridge Golf Club , Scarsdale, N.Y.
"We're a traditional private club and were fairly content with our tournament software, but decided to give USGA Tournament Management Premium a try to offer live scoring. What started out as software to use just occasionally turned into a product that we are using for almost every club event. The software is intuitive, help is always easy to find, and new enhancements are continuously being added. The ability to continue with traditional printed materials and have the option for live scoring is the best of both worlds. My pro staff is now saving an enormous amount of time and delivering our members a great experience using USGA TM Premium for just about every member event and outing".
LAGRANGE COUNTRY CLUB
Lagrange Country Club
"The Golf Genius staff is comprised of many PGA members and the ability to work with other PGA Professionals makes a tremendous difference. They understand the everyday work involved in running a quality event and know what our staff needs to be successful. Working with the Golf Genius team is always a pleasure and positive experience." 
FOSSIL TRACE GOLF CLUB
Fossil Trace Golf Club
"We have one large league that uses it for all their scoring administration. They setup all their formats for the season and then are able to manage everything on their own from their home office in Denver. So it's a fantastic tool for us, and for them getting their league administered in a very simple, easy and fun way."
BALLSTON SPA GOLF CLUB
Ballston Spa Golf Club
"I use Golf Genius every day to set up all of our member tournaments. We also use Golf Genius for all of our outside tournaments as well. We have people that have never played our facility coming to play our golf course and sign up for a tournament and Golf Genius makes it easy to do this."
GREEN BROOK COUNTRY CLUB
Green Brook Country Club
"We designated score entry through the Golf Genius app as the official scoring method for The Green Brook Invitational. Not only were our members and their guests constantly able to see how they stood within their flight in real time, but we were able to immediately move on to the Shootout after the last score was entered. This lead to a larger gallery for the Shootout and an even more exciting finish to our flagship event."
THE VINTAGE GOLF COURSE EVENTS
The Vintage Golf Course , Rothbury, Australia
"Golf Genius is exactly as the name suggests, a GENIUS. The program is without question one of the most valuable tools in our golf operation. The reduction in labour is measurable with regard to administrating and organizing a group golf event. The print center makes the process of creating draws, alpha sheets, NTP's and all other related items an absolute breeze. From a support point-of-view, the Golf Genius team is always on hand and able to assist with any challenges or questions - very refreshing! I would recommend Golf Genius to any facility looking to provide the best service possible with reduced labour costs."
OAK HILL COUNTRY CLUB EVENTS
Oak Hill Country Club , Rochester, New York
"Golf Genius has made a significant impact on tournaments here at Oak Hill. A few features that the membership and golf staff have come to love about Golf Genius is registering for events online, live scoring, emailed results and tee times. Moving from the traditional locker room sign ups to now registering online for events has been the biggest transition for the membership. Everyone loves that they can sign up for an event while not being at the club. We first used live scoring and the leaderboard for a ladies event at the beginning of the year and since then all the ladies ask if we are using live scoring and the leaderboard for events. These three improvements have made a significant impact on our tournaments and we look forward to improving our events with Golf Genius."
TRUMP NATIONAL GOLF CLUB - CHARLOTTE EVENTS
Trump National Golf Club - Charlotte , Mooresville, NC
Jay Mull has been the Director of Golf at Trump National Golf Club Charlotte since 2005. He and his team began using Golf Genius in 2015. The top priority of the pro staff at Trump Charlotte is to continuously enhance the golf experience for members. When Jay first took a look at Golf Genius, he saw real potential to advance that goal and made the decision to add a unique and powerful tool to his operation. Learn More...
DREAMLAND GOLF CLUB EVENTS
Dreamland Golf Club , Baku, Azerbaijan
Phil Jones, General Manager of Dreamland Golf Club in Baku Azerbaijan, explains how his team has utilized the many facets of Golf Genius to save time, provide guests with a true tournament experience, engage with the local community, create a tribal-like community at the club, and significantly increase revenue on a number of levels. Learn More...
SOUTH HERTS GOLF CLUB EVENTS
South Herts Golf Club , United Kindgom
"The system is brilliantly unique and there is nothing comparable in the marketplace today. There are systems that offer certain specific features, but none that offer the complete event management solution that Golf Genius can deliver. We have been using all the software's features on member away days and other special golf events. Our members and guests really like the live leaderboard systems, the interactive mobile app and web portal systems. The printed branded materials have brought a new level of professionalism that presents the golf club extremely positively to its members and guests."
PORTLAND COUNTRY CLUB EVENTS
Portland Country Club , Falmouth, Maine
"Golf Genius has been an incredibly valuable resource for our club. From a staff perspective, we are able to save large amounts of time with their scoring features, which allows us to spend more time with the membership when an event comes in, rather than adding scores by hand. Our membership loves the live scoring for our club championships and major events, and the web portals provide them a "one-stop-shop" for tournament information, results, and their season-long statistics. Thank you Golf Genius!"
AUDUBON COUNTRY CLUB EVENTS
Audubon Country Club , Louisville, Kentucky
"As I've shared with golf professionals all over the region, Golf Genius has transformed the tournament experience for the members, guests, and staff of Audubon Country Club. My staff and I are constantly searching for ways to make our event experience unique and memorable. The live scoring feature offered by Golf Genius has added an irreplaceable element to our events that all participants rave about. We now have two large screens in our bar areas that scroll leaderboards during all major events. Even our technology challenged participants have found on-course scoring to be simple. Golf Genius has made it possible to eliminate traditional scoreboards, saving countless hours during and after tournaments. The support staff at Golf Genius is second to none. If our staff can't find the answers we need in the FAQ area, we can chat on-line with support. They respond in seconds and questions are resolved in minutes. Golf Genius is one of the best amenities we have provided our club in my 17 years as Head Golf Professional at Audubon Country Club."
GOLF EVENT MANAGEMENT COMPANY
NGL Golf , United Kindgom
"We have been using Golf Genius for little over a year now, and I have to say there are many benefits in doing so. Many of our clients have taken advantage of using the online registration and web portals which makes communicating with each competitor extremely easy and saves us and our client a large amount of time in the process. One of the main features that our clients love is the printed materials. The system allows us to create personalised scorecards and many other printed materials including personalised pin sheets, name cards and score sheets, that are branded to our client's requirements. The tournament management system has really enabled us and our clients to be more efficient when running the day and for us it offers additional features that enhance the service we can offer."
TRUMP INTERNATIONAL GOLF LINKS, SCOTLAND EVENTS
Trump International Golf Links, Scotland
"Golf Genius has been a brilliant addition to my armory in my role since signing up a year ago. It is a fantastic events management tool from setup to completion. One of the greatest assets of Golf Genius is their support team – they are incredibly quick to respond to any issues or guidance that is required. Additionally, Golf Genius is consistently moving forward with improvements to the functionality, new functions and they are more than happy to listen to suggestions on how to improve."
LINDRICK GOLF CLUB EVENTS
Lindrick Golf Club
"We have invested in the best golf technology available, Golf Genius. Golf Genius gives all players an exciting tour-like experience. This has been an ideal solution for visiting or corporate parties. Between the live scoring and pre-event setup, Golf Genius has provided our club with more business and enhanced the overall tournament experience." To learn more about how Lindrick Golf Club offers Golf Genius, view our new marketing video. Learn More...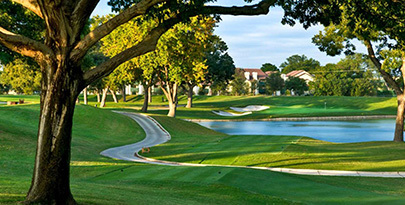 THE COLONIAL CUP
Colonial Country Club , Fort Worth, TX
"Our premiere member-guest tournament, the Colonial Cup, is the highlight of the club's golf calendar. Golf Genius added even more enjoyment to this already prestigious event with its efficient tournament management and live scoring. Players were more involved than ever during the tournament and live scoring created an electric atmosphere that lasted all the way until the final putt dropped."
THE ELS CLUB EVENTS
The Els Club
"Golf Genius has been a fantastic addition to our business in many ways. Providing each of our events (whether they be member, society or corporate) with their very own event website has been a real wow factor. The integration with Visage to offer live scoring has provided a fun experience for our members and guests. It has provided the ability to register for events online which in turn has supported positive member and guest satisfaction. Event preparation (e.g. scorecards, format sheets, cart signs) is more efficient and has enhanced the productivity of our team. The support of the Golf Genius team is great – as a whole we're delighted with the product and service."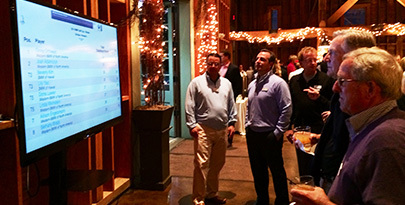 BMW GOLF CUP U.S. FINAL
BMW of North America, LLC
"We were able to seamlessly integrate Golf Genius and its live scoring into our multi-day, national amateur final competition at Pinehurst Resort. Golf Genius successfully accommodated our large field, modified Stableford scoring format, and several flights across multiple courses. It was a great enhancement to our event and was well-received not only by the players, but also by their family and friends who could track the results and standings in real time using the Golf Genius live scoring application on their mobile devices."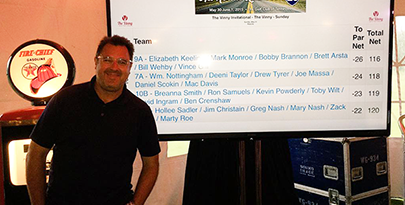 THE VINNY INVITATIONAL
Golf Club of Tennessee , Kingston Springs, TN
"With a two-day event of 162 golfers, we threw every programming challenge at Golf Genius due to our crazy formats (six-some teams), as well as a change in format an hour before we teed off—and many others. Golf Genius and their team not only helped make the scoring look professional, but cart signs and our online portal were perfect. This year we used an 80" monitor instead of a corrugated scoreboard and the difference was amazing. Golfers, celebrities and professional athletes flocked to look at the scores and we received rave reviews about how "cool" the scoring was."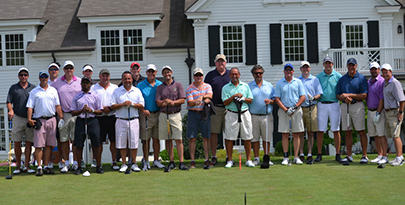 PATTERSON MEN'S INVITATIONAL
The Patterson Club , Fairfield, CT
"The Invitational is our club's premier event and consists of ten six-team flights. We are always looking for ways to WOW our members and their guests and Golf Genius did just that. The ability to not only have a live scoring platform that was accessible to golfers but also their families and other club members was fantastic." Learn More...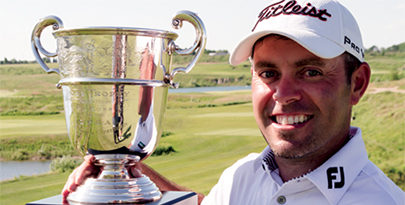 PGA CHAMPIONSHIP OF CANADA
Championships & Events , PGA of Canada
"Having live scoring available for patrons on site and viewers across Canada added enormous value to our annual Championship. Brackets updated automatically and people could follow the Championship in real time. As a tournament director, having confidence in your tournament management software is a key to success."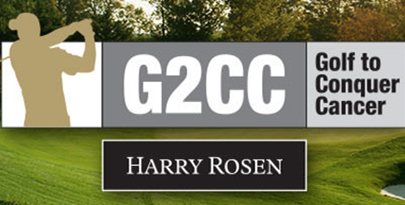 GOLF TO CONQUER CANCER
Princess Margaret Cancer Foundation
"Golf Genius was an innovative addition to our event, which became the highest-grossing single-day golf event supporting the cancer cause across Canada. The features also provided added value and exposure for our core sponsors as their branding was on leaderboards and the custom website." Learn More...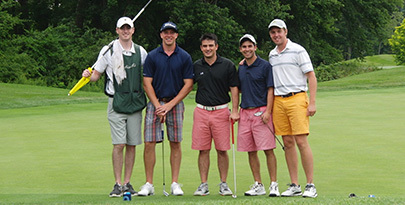 54TH NASHAWTUC INVITATIONAL
Nashawtuc Country Club , Concord, MA
"Golf Genius provides us with intuitive and robust event software while simultaneously engaging participants with live scoring and social features. Real-time score entry by golfers is a win-win. This is the first time I have experienced 'member demand' for tournament software as it's now requested for every event!"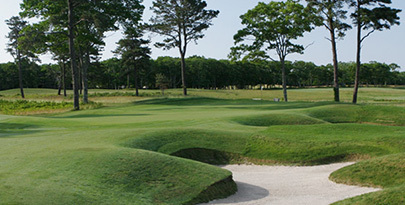 VINEYARD CLASSIC
The Vineyard Golf Course , Cincinnati, OH
"We were able to take the event to a new level and my staff saved hours of time. The golfers really enjoyed being able to check out their statistics and full event results online. Golf Genius gives amateurs a glimpse into the world of Tour pros. With live scoring, updated leaderboards, player stats and a user-friendly app, Golf Genius helped make it exciting and cool to compete in the 28th annual Vineyard Classic."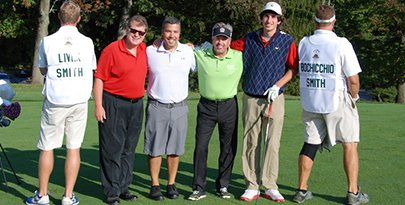 COMCAST INVITATIONAL
Merion Golf Club , Ardmore, PA
"This was my first year organizing the Comcast Spotlight Golf Classic, and I wanted to incorporate innovative ideas that would enhance the experience," said Celins. "The ability to provide golfers with live scoring on the course as well as a branded Comcast website with photos and results took the event to a whole new level. Everyone has a busy schedule between family and work obligations, but the website for our event gives people the ability to check results and download photos at their leisure." Learn More...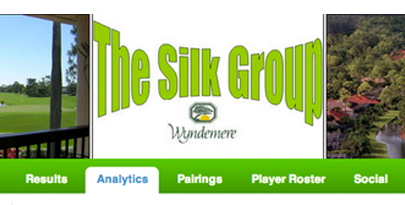 PRIVATE COMMUNITY MEN'S LEAGUE
The Silk Group
"I was spending hours creating pairings and compiling statistics for our group. I kept two Excel spreadsheets, one with who played with whom in previous events and the other with weekly statistics. Now all I have to do is push a button and most of the work is done for me. My favorite feature by far is the pairings. With 44-48 golfers, organizing pairings and making sure the guys weren't playing with the same people week to week was always my biggest problem. Golf Genius has solved that." Learn More...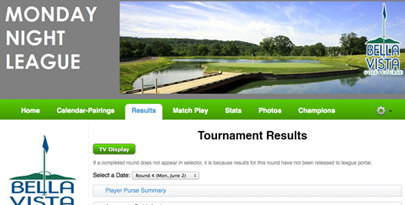 PUBLIC COURSE - MEN'S CLUB EVENTS
Bella Vista Golf Course
"The ability to offer alternative or multiple formats to outings is an outstanding value add. So many outing coordinators are bored with the usual scramble or captain's pick format and are looking for another game to maximize player interest and enjoyment. Golf Genius supplies this option. Scoring in Golf Genius is amazingly quick and being able to use the TV display was a nice touch for the outings, since we don't have a formal scoreboard at the club. We simply hook the laptop up to a big TV in the banquet facility and we're able to show a running scoreboard while we score the event. The golfers love it as they can see the leaderboard unfold before their eyes." Learn More...
Previous
Next
Some of Today's events using golf genius
Scroll to find your event or search here: